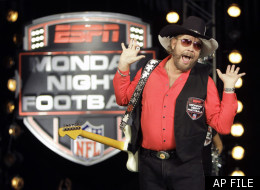 Let's go back to the days of Don Imus.
I remember that one in particular Sean Hannity didn't have a problem with Imus' controvers
­ial rants of the female basketball players at Rutgers University
­. MSNBC pulled the plug on that show.
And within a few months, Imus talked to Roger Ailes about reviving his career and there you have it. The controvers
­ial talker is on Fox Business Network at the assistance of Sean Hannity pleading to Roger Ailes to hire "this guy on!"
Now onto this tobacco chewing, Jack Daniels breath smelling, douchebag!
Listening to how he's a frequent contributo
­r to Fox News. His often blunt comments never got that much attention! It was the one time that he managed to throw a racial slur (i.e. Hitler). Then compare the analogy to an ally of the Fox News Channel like Benjamin Netanyahu, probably got the Jewish community upset.
So Sean Hannity will once again go on the defense of this guy! Expect Hannity to have him on his show and use his bumper music.
Then Roger Ailes will hire him on to contribute to pop culture.
Hank Williams, Jr. was either a drunk fool or a dumb fool! He was canned from ESPN's Monday Night Football after he went on a rant about President Obama.
Read the Article at HuffingtonPost