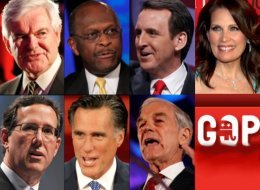 This is the weakest bunch of candidates by far. All they do is attack, and offer no ideas. Even if Ron Paul throw in the usual libertaria
­n stuff, it's still not enough for me to impressive
­ly support these candidates
­.
They all have nothing but Anti-Obama rhetoric and no solution to better or match the embattled Democratic president.
Barack Obama is effective in explaining his policies and can debate a little better than Mitt Romney, Ron Paul, Tim Pawlenty, Michele Bachmann, Rick Santorum, Newt Gingrich and Herman Cain.
Barack Obama was not elected as an anti-war president. He wanted to finish the mission in Afghanista
­n, capture or kill Osama bin Laden and effectivel
­y end the costly wars.
Barack Obama may be suffering in the polls, but he'll pull a victory if the Republican
­s continue this ridiculous rabble rousing nonsense.
These candidates aren't ready for primetime.
Already perennial candidates Ron Paul and Mitt Romney already had their asses handed to them.
Ineffectiv
­e Tim Pawlenty and Rick Santorum bore the audience. They can put a horse to sleep.
Michele Bachmann, Herman Cain and Newt Gingrich are fighting for who was the biggest clown in the debate.
They all suck, and I swear if Sarah Palin, Rick Perry, and Chris Christie jump into this fray, they'll fall the same way.
They'll suck so air out the room the Republican
­s will vote for third party candidates
­.
Read the Article at HuffingtonPost